With the introduction of the Stanza eBook reading application the Apple iPhone and iPod Touch have become major platforms on which to read eBooks. Since Stanza was released there have been several other eBook readers released for the iPod Touch allowing eBooks in many different file formats (including the ePub eBook standard) to be downloaded from any one of the many sources that have both free (public domain) and commercial eBook titles.
The goal of my own personal project is to provide Project Gutenberg eBooks formatted in the ePub eBook standard and make freely available from epubBooks.com. Because of this I knew I would need to test how my conversions look on an iPhone or iPod Touch, therefore I decided to purchase an iPod Touch.
I'm not a fanatic of Apple so as you can imagine, I wasn't really expecting much from the iPod Touch other to test my ePub formatted books and listening to music.
I won't go into too many details in this review about the different Apple apps available on the iPhone/Touch (there are already plenty of other reviews like that) as I want to keep this focused on the eBook aspects, specifically targeting Project Gutenberg fans.
During the review I will only be focussing on the iPod Touch but it must be noted that the Touch is exactly the same as the iPhone, just without the cellular phone abilities or persistent internet access. So anything that can be done with the iPod Touch should also be available on the iPhone.

Key Features of the iPod Touch
First, here's a very quick rundown of the main features;
Super compact device with very ergonomic design.
Size: 4.3 x 2.4 x 0.33 inches (110 x 61.8 x 8.5 mm) – Weight: 4.05 ounces (115 grams)*
Full colour, multi touch 3.5 inch (diagonal) screen with a resolution of 480×320 pixels.
8GB, 16GB and 32GB** internal memory.
Wi-Fi (802.11b/g)
Audio support for Music and Audiobooks.
Video support
17 Languages and 30 international keyboards
Lithium ion rechargeable battery for up to 36 Hours of Audio playback or 6 hours of video playback.
Connects to any modern computer that has USB support (Windows PC and Apple Mac)
* The iPhone is a little bigger and a little heavier than the Touch
** 32GB only on the iPod Touch
There are plenty of applications to use on the iPod Touch for organising your life including; Calendar, Clock/Alarm, Contacts, Notes, Calculator. If you use the built in Wi-Fi to connect to the internet then you can use the Safari web browser, Google Maps, Weather, Stocks, YouTube or just check your email.
The most interesting feature of the iPod Touch however is the Apple App Store. From here you can download a multitude of different programs including eBook reader apps.
Two Useful Apps for the iPod Touch
Before I discuss the eBook specific apps I would just like to mention two that I am particularly fond of.
RSS Feed Reader
One of the best ways to quickly grab news from your favourite blogs is to use a RSS Feed Reader. There's plenty of online and desktop programs available – for the iPod Touch I found the free NetNewsWire Feed Reader. You'll need to set up an account and add your different blog feeds via your desktop web browser first. Once done, enter your login details into the app and away you go.
I find this app especially useful as I can connect to my home wireless internet and download all the latest feeds before I head off to work each morning.
Translation Dictionary
When I moved over to Germany last summer I naturally started learning the language. To help me learn I have started reading German books and as I carry my Touch wherever I go, the Ultralingua English/German translator seemed the perfect app to buy. Now I can look up one of 250,000 words any time, anywhere…very cool!
eBook Reader Apps on the iPod Touch
A present there are only a handful of eBook reading applications available in the app store and certainly not many free ones. However, I did find two free options worth looking at.
Using Stanza to read eBooks on the iPod Touch
The Stanza eBook Reader from Lexcycle was the first reader for the iPod Touch that can read ePub formatted eBooks. At this time the app is free although the original plans were to charge for it once it was out of beta. I'm not sure if this will still happen, but I truly hope they keep it free to use.
Stanza is a very well designed application with some nice features and plenty of settings that allows the user to get the most from their reading experience.
Change colours for the text, background and hyper-links.
Change Font Size and Font Face.
Adjust text Justification, Hyphenation, Line Spacing and Margins.
Enable/Disable a books internal style attributes (font sizes, colours, indent, etc) and images.
Auto load last book.
Lock the book orientation.
…and more.
Navigating your eBook collection can be made by title, author, subject (genre), last read and most recent downloaded. Lexcycle have also implemented iTunes style navigation, so when you turn your iPod Touch to the landscape position (while browsing by title) you get that fancy 'book cover' carousel, which looks very pretty for sure.
One of the best features in Stanza is how and where you download eBooks on to the Touch. Lexcycle have obviously put a lot of effort into making this process as easy and intuitive as possible while also providing access to the most well known public domain repositories that included, Feedbooks.com and of course, Project Gutenberg (keep reading, I'll explain how to download from PG a couple of sections from now).
You can find the Stanza app from within the App Store by searching for 'Stanza'.
Downloading eBooks from Feedbooks with Stanza
To download eBooks from Feedbooks.com first make sure you are connected to a Wi-Fi network. Either use you home wireless system or go into town and find a hotspot. From within Stanza click on the Online Catalog menu, select Free Books by Feedbooks, choose one of the options (e.g. Books: Recent Additions) select a title and hit Download. Once complete the Download button changes to Read Now, click this and away you go.
You can also download Newspaper and Magazine RSS feeds, which is a very neat feature.
From my personal perspective the greatest aspect of the Stanza/Feedbooks setup is that they offer all their titles in the ePub eBook Standard.
eReader (Fictionwise) eBook Reader
The eReader is a free eBook reader that allows you to read commercial eBooks bought from both eReader.com and Fictionwise.com. As a nice feature they've also enabled the reader to download and read eBooks from manybooks.net. The reader design itself is okay, although it does feel a little basic with few settings to make things nicer – though I am sure this will improve with future updates. For reading commercial eBooks this is probably the best reader to go with at this time.
Downloading and Reading Project Gutenberg eBooks on the iPod Touch
Project Gutenberg currently has over 25,000 titles available for download making it one of the largest and best resources for free 'out of copyright' books (if you are not a residence of the U.S.A. please check the copyright status of your own country). There are two easy ways to download and read Project Gutenberg eBooks on the iPod Touch.
Reading Project Gutenberg eBooks with Stanza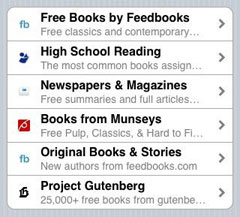 To download eBooks via Stanza, open the app and click on the Online Catalog menu item, then in the list provided you will see the Project Gutenberg menu item. Click this and you will be taken to the PG navigation screen.
It must be noted that due to the large number of books available at Project Gutenberg, navigating can be a little challenging, therefore you'll want to make good use of the Search option. From within each book listing section you will find a magnifying glass in the top-right of the screen, clicking on this will allow you to search the listing for a particular title, author, etc.
Another useful feature is that within each section (Author, Subject, etc) Stanza presents you with a Most Popular button. This can give a good indicator on how many titles are available in each category.
Once you find a book, select it and click the Download button (top-right). Click again on the next Download button and then Read Now.
Reading Project Gutenberg eBooks on eReader
If you wish to use the eReader application you will need to use manybooks.net to access [almost] all of the PG eBooks. This is done directly from within the eReader application itself.
At the top right of the eReader app you will find a + (plus) button, click this and press the manybooks.net button. This then takes you to the manybooks.net mobile site. Here you can select from New Titles, Authors, Titles, Categories, Languages and Recommendations. Navigate and select a title then scroll down until you see the Downloads section. There will be a list of several links.
NOTE: Only select the 'eReader' link if you see a number in brackets to the right, i.e. (225k). Otherwise select the 'PalmDOC' entry.
The actual download function of this probably needs a little more attention from ManyBooks to make it a little more obvious.
Once downloaded you can go to the Bookshelf and read your newly download eBook.
Final Thoughts
The screen on the Apple iPod Touch is perhaps a little on the small side for book reading but zooming in on the text is easy enough and if you've ever read on a PDA then you'll be used to hitting the page turn a little more often than you'd like.
Navigation is of course very intuitive for both the native Apple apps and also the Stanza and eReader eBook readers. Lexcycle in particular has made downloading eBooks very easy from within Stanza and by providing access to several different sources such as Project Gutenberg, there should be no shortage of free eBooks to read.
Battery life is actually better than expected, though I would recommend you turn off the Wi-Fi when you don't need it. Battery life is one area where a dedicated eBook reader such as the Sony Reader is superior – I charge my Sony just once every couple of weeks, so expect to keep your iPod Touch battery regularly topped up.
As a modern all-in-one device there is probably nothing out there at the moment that can match it in usability and richness of software, and although the iPod Touch doesn't not have cellular phone abilities or a persistent internet connection, it is still a very impressive all round device.
The iPod Touch and iPhone are very adept at reading books but having the ability to also use it as a RSS Reader, for Twittering with or just checking the Weather make it very nice for sure.
Conclusion
If you're a hardcore reader then I'd say this is not what you want as your sole eBook reading device, rather more as a supplementary reader.
For those of you who are casual readers, perhaps just reading for 20 minutes while on the train to work or waiting in the doctor's office, then the iPhone or iPod Touch should be very satisfactory indeed.
Apple iPod Touch is available from Amazon and Apple in 8GB, 16GB and 32GB models.
If you liked this post, say thanks by sharing it.