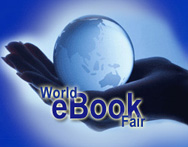 Come join the celebration, "It's the Year of the eBook!"
We should be adding thousands of books, new and old, to the following libraries every single day for an entire month of July 4 to August 4, 2011 at our 6th annual World eBook Fair.
All are welcome!
We will have three eLibraries each with over a million books:
In addition to the 6.4 million items above, we will have some very impressive collections from:
We are also working on an additional large library collection and could easily pass 7.5 million items during this event.
World eBook Fair Details
The 2011 World eBook Fair is shaping up to be greater than any of us had anticipated. Our readers should see over 6.87 million items to get.
~ 2.89 million from http://www.archive.org
~ 2.10 million from http://www.worldpubliclibrary.org
~ 1.61 million from http://www/wattpad.com
~ 0.17 million from the various Gutenberg servers
~ 0.09 million from The IMSLP / Petrucci Music Library http://imslp.org
~ 0.01 million from various other eBook sites
===== ======= ==================
~ 6.87 million eBooks possible starting Grand Total
Approximately 30,000 titles will be added each week and many of these eBooks are available for cellphones. We hope to give away about a million items each day. Please note that archive.org, PG, etc., have many audio files, movies, music files, etc. with totals of an additional ~1.5 million other files.
The Internet Archive also has free downloads of:
528,989 Movies
93,924 Live Music Concerts
911,772 Audio Recordings
Hoping to thank you soon for your consideration.
Michael S. Hart
Founder
Project Gutenberg,
Inventor of eBooks
Co-Founder
The World eBook Fair
Disclaimer:  As with all large book collections, many titles appear in more than one edition thus the same edition may be in multiple collections. In this case there is even more duplication than usual since several of these eLibraries work for the same ends and from the same materials. Thus you should expect that out of a 6.5 million grand total we have several million duplicates. While no one is suggesting that half were dupes, the highest estimates do approach half. The fact is that materials are coming in so fast that we are having trouble keeping up so you may note slight discrepancies in the totals above.
If you liked this post, say thanks by sharing it.