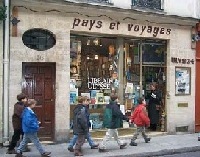 Founded in 1971 by Catherine Domain in Paris, France, Librairie Ulysse (Ulysses Bookstore) is the oldest bookstore in the world dedicated only to travel. The bookstore launched its website in 1999 and a small publishing venture in 2010.
Nested on Ile Saint-Louis surrounded by the river Seine, Librairie Ulysse has offered 20,000 books, maps and magazines, out of print and new, about any country, all packed up in a tiny space, with some treasures impossible to find anywhere else.
Beginning
What were the first steps of Librairie Ulysse? Catherine wrote on the bookstore's website: "After traveling for ten years on every continent, I stopped and told myself: 'What am I going to do for a living?' I was aware of the need to insert myself in a sociey in one way or another. I made a choice by deduction, refusing to have any boss or employee.
Remembering my grandfathers, one being a navigator, and the other one being a bookseller in Perigord [a region in Southern France], and noting that I needed to visit more than a dozen bookstores before finding any documentation on a country as close as Greece, a 'travel bookstore' came to my mind during a world tour while I was sailing between Colombo and Surabaya.
Back in Paris — I already lived in Île Saint-Louis — I looked for a place, gathered information about the job of bookseller, did some internships in other bookstores, wrote index cards, and thought about a name for this new business.
One morning, while going out to buy my daily newspaper, I looked up and saw the sign of the bookstore 'Ulysse' [Ulysses in French], a reference to Joyce, at number 35 of street Saint-Louis-en-l'Île. 'Here is a name!', I told myself. I climbed two stairs to get into this very small 16m2 store with a single beam. Four guys played poker. 'What a cute bookstore!', I said. 'It is for sale', one of the players answered without looking up. 48 hours later, I was a bookseller. This was in September 1971. The first bookstore in the world specializing in travel was born.
Twenty years later, I was hit by real estate development, like a number of people, and I had to move out. Luckily, my stubborn side — I am a Taurus ascendant Taurus — gave me the strength to move my bookstore a few meters away into a larger place, on number 26 of street Saint-Louis-en-l'Île, in a quite uncommon building. First, this was the first building in which I lived in Île Saint-Louis. Second, this building formerly hosted a bank branch that was famously burglarized by Spaggiari."
In 1999
Even after she became a bookseller, Catherine went on traveling every summer, usually sailing on the Mediterranean, the Atlantic or the Pacific, while her boyfriend was running the bookstore.
She has been a member of the French National Union of Antiquarian and Modern Bookstores (SLAM: Syndicat National de la Librairie Ancienne et Moderne), the Explorers' Club (Club des Explorateurs) and the International Club of Long-Distance Travelers (Club International des Grands Voyageurs).
Catherine started the bookstore's website in early 1999, as a virtual travel in the field of computing, despite knowing very little about computers.
She wrote in late 1999: "My site is still pretty basic and under construction. Like my bookstore, it is a place to meet people before being a place of business. The internet is a pain in the neck, takes a lot of my time and I earn hardly any money, but that doesn't worry me… I am very pessimistic though, because it is killing off specialist bookstores." (NEF Interview)
Local bookstores were closing one after the other in Paris, having a hard time keeping up with the competition of Amazon.fr, Fnac.com and the likes.
In 2005
Catherine nevertheless created a second travel bookstore in 2005, this time facing the ocean, in Hendaye, a city on the Southern coast of the Atlantic. Open from 20 June to 20 September, the bookstore can be found along the beach in a Moorish building, a historical monument that formerly hosted the casino. At high tide, the bookstore is like "a steamer of books that is going to set sail, and sometimes does", because it is flooded by the sea.
In 2010
Ten years after starting her website, Catherine was much less pessimistic about the internet. This "new" medium had allowed her to become a publisher of travel books.
She wrote in April 2010: "The internet has taken more and more space in my life! On 1st April, I became a publisher after some painful training in Photoshop, InDesign, and other software.
This is also a great joy to see that the political will to keep people in front of their computers for them not to start a revolution can be defeated by giant and spontaneous happy hours [organized in Europe through Facebook] with thousands of people who want to see, and speak with, each other in person.
In the end, there will always be unexpected developments to new inventions, among other things. When I started using the internet, I really didn't expect to become a publisher."
Copyright © 2011 Marie Lebert
ToC :: Next article: eBooks: 1999 – The internet as a novel character
If you liked this post, say thanks by sharing it.