Ibis Reader is probably the best online eReader around at the moment, allowing you to read all your DRM-free EPUB's in any modern web browser on many different mobile devices, including Google Android and the Apple iPad/iPhone.
Developed by Threepress Consulting, their EPUB reader is the next generation of the Bookworm project (now hosted at O'Reilly), boasting a vastly improved user interface and new features.
Ibis Reader is the perfect companion for any eBook fan especially as Project Gutenberg now provides all their titles in the EPUB format. As an online eReader you're able to use it straight from your web browser, whether that's on your laptop or mobile device, and best of all, it's completely free!
Accessing Ibis
Signing up is super easy; just click on the login button and enter your email and a password. If you don't already have an account, the system will create one automatically for you.
Once you're logged in you'll be taken to your library page, which Ibis calls My Books. It's from here that you add new books.

Click the Add a Book link and upload one of your Gutenberg EPUB's directly from your computer.
Don't forget you can also use the ebooks from epubBooks, which provides both EPUB and Kindle ebooks.
Using Ibis on your Laptop
Both the desktop and mobile versions of ibis Reader are beautifully designed, but with the desktop version looking a little more like a normal website. However, one of the best features here is the "No distractions" option.
Using this feature will switch off all the normal website visuals (navigation, logo, footer, etc.) giving a viewing mode perfect for reading. Of the few controls still visible we have Font and Size. As you would expect, these change the font family (serif or sans) and the font size, of which there is an almost infinite numbers available.
Ibis on the Apple iPad/iPhone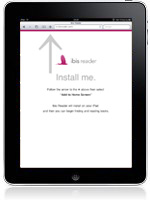 Although it's possible to download and read Project Gutenberg EPUBs directly from within Apple's own iBooks Reader, by providing a special iPad mode, ibis will let you store all your titles in just one place, giving you a centralized library.
On your iPad, open up the Safari web browser and visit ibisReader.com. The website will detect that you're using an iPad and present you with the install page. Follow the onscreen instructions to add a bookmark directly on your "Home Screen", where you can then launch ibis Reader just like any other iPad App.
Open up ibis and login to your account. Once you've done this any books you've already uploaded will automatically be shown in your library.
There are the same controls as with the "No distractions" feature on the desktop version; font family and font size. Additionally, there is a brightness control.
Adding books to ibis from inside the iPad can be quite tricky and this is perhaps the one negative point to using ibis Reader on the iPad. You will need to know and type-in the URL of the EPUB file, this can be tricky and a little frustrating. Still, once your books have been added, the reading experience is great.
Ibis Reader is available at; www.ibisreader.com
If you liked this post, say thanks by sharing it.