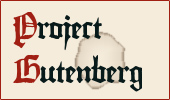 Project Gutenberg, the granddaddy of all eBook libraries, announced today they have put number 40,000 of internally produced free eBooks online as of March 1st.
This raises their grand total to 100,000, as they receive a number of eBooks from other producers worldwide. These figures even subtract 15,000 for various duplications.
If you have a Kindle, set your browser to: http://bit.ly/gutmagic to partake of these eBooks free of charge.
If you have an iPad just search the various book features for "Project Gutenberg."
Before buying an eReader you might want to check that the Project Gutenberg library is available to get you started on the path to building your own collection for free.
People who are already comfortable with browsers can surf to the following sites and download Gutenberg's eBooks: http://www.gutenberg.org and http://www.gutenberg.cc.
The first site has most of the 40,000 eBooks created from the Project Gutenberg volunteers around the world and has eBooks in 60 languages in a variety of formats, and has a site that's very user friendly to cellphones, iPods, etc.
The second site has eBooks in .pdf format, 100+ languages are represented, and also includes some 15,000 from those at the first site.
You can also do searches for Project Gutenberg of Canada, Australia and Europe, for even more free eBooks.
You can also do such searches for specific eBooks.
This comes just in time for "Read An eBook Week," running from March 6-12!!!
By the way, the 40,000th eBook was pretty much a tie of a handful of books coming in from Canada, another coming in from Romania, and yet another coming from Poland.
However, the Canadians seem to have edged everyone out in fact with:
Neighbours (1922)
[Novel. In rural Canada, your neighbours are important.] by Robert James Campbell Stead (1880-1959) Canadian Poet and Novelist.
If you liked this post, say thanks by sharing it.