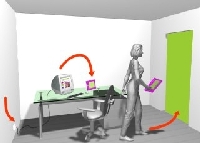 How about a book-sized electronic device that could store many books at once? The first ebook readers were the Rocket eBook and the SoftBook Reader, launched in Silicon Valley in 1998.
These dedicated electronic readers were the size of a (large and thick) book, with a battery, a black and white LCD screen, and a storage capacity of ten books or so. They could connect to the internet through a computer (for the Rocket eBook) or directly with a built-in modem (for the SoftBook Reader).
They got much attention from book professionals and the general public, with few of them buying them though, because of their rocket-high price — several hundreds of dollars — and a small choice of books in the digital bookstores available on the companies' websites. Publishers were just beginning to digitize their own books, still wondering how to market them, and worried with piracy concerns.
The Rocket eBook
The Rocket eBook was launched in 1998 as the first dedicated ebook reader by NuvoMedia, a company founded in 1997 in Palo Alto. The investors of NuvoMedia were Barnes & Noble and Bertelsmann. NuvoMedia wanted to become "the electronic book distribution solution, by providing a networking infrastructure for publishers, retailers and end users to publish, distribute, purchase and read electronic content securely and efficiently on the internet". The Rocket eBook could connect to a computer (PC or Macintosh) through the Rocket eBook Cradle, a device with two cables, a cable for power through a wall transformer, and a serial cable for the computer.
The SoftBook Reader
Shortly afterwards, SoftBook Press launched the SoftBook Reader, along with the SoftBook Network, "an internet-based content delivery service". The investors of Softbook Press were Random House and Simon & Schuster. With the SoftBook Reader, "people could easily, quickly and securely download a wide selection of books and periodicals using its built-in internet connection". The device, "unlike a computer, was ergonomically designed for the reading of long documents and books."
Other ebook readers
Other ebook readers were launched in 1999, for example the EveryBook Reader, launched by EveryBook, and the Millennium eBook, launched by Librius.
The EveryBook Reader was "a living library in a single book", with a "hidden" modem to dial into the EveryBook Store, for people "to browse, purchase, and receive full text books, magazines, and sheet music".
The Millennium eBook was a "small low-cost" ebook reader launched by Librius, a "full service e-commerce company". On the company website, a World Bookstore "delivered digital copies of thousands of books" via the internet.
All these ebook readers didn't last long. People would have to wait to get through the millenium to see the Gemstar eBook in the U.S. and the Cybook (1st generation) in Europe.
The Gemstar eBook
The Gemstar eBook was launched in November 2000 after Gemstar bought in January 2000 Nuvomedia (author of the Rocket eBook) and SoftBook Press (author of the SoftBook Reader), the two companies that created the first ebook readers. Two versions of the Gemstar eBook were available for sale in the U.S., the REB 1100 (successor of the Rocket eBook) with a black and white screen, and the REB 1200 (successor of the SoftBook Reader) with a color screen, both produced under the RCA label, belonging to Thomson Multimedia. Gemstar tried to launch them in Europe too, beginning with Germany, while buying 00h00, a French publisher of ebooks, in September 2000. In fall 2002, cheaper ebook readers were launched as GEB 1150 and 2150, produced by Gemstar instead of RCA. Sales were still far below expectations. The company stopped selling ebook readers in June 2003, and stopped selling ebooks the following month.
The Cybook
The first European ebook reader didn't work well either. Developed by Cytale, a French company created by Olivier Pujol, the Cybook (21 x 16 cm, 1 kilo) was launched in January 2001. Its memory — 32 M of SDRAM and 16 M of flash memory — could store 15.000 pages, or 30 books of 500 pages. Sales were far below expectations, and Cytale closed its doors in July 2002. This model was later renamed Cybook 1st generation, waiting for more generations to come. The Cybook project was taken over by Bookeen, a company created in 2003 by Michael Dahan and Laurent Picard, two former engineers from Cytale. The Cybook 2nd generation was available in June 2004. The Cybook Gen3 (3rd generation) was available in July 2007, with a screen using the E Ink technology.
The @folio project
The @folio project is a mobile device for texts designed as early as October 1996 by Pierre Schweitzer, an architect-designer living in Strasbourg, France. It is meant to download and read any text and/or illustrations from the web or hard disk, in any format, with no proprietary format and no DRM. The technology of @folio was novel and simple. It is inspired from fax and tab file folders. The flash memory is "printed" like Gutenberg printed his books. The facsimile mode is readable as is for any content, from sheet music to mathematical or chemical formulas, with no conversion necessary, whether it is handwritten text, calligraphy, free hand drawing or non-alphabetical writing. An international patent was filed in April 2001. The French startup iCodex was created in July 2002 to develop and promote the @folio project.
To this day, @folio has stayed a prototype, because of lack of funding and because of the language barrier, with only two articles in English for dozens of articles in French. Even the best researchers can't do much with no support, no funding, and no interpreter (from French to English) to help them get through the language barrier.
Copyright © 2011 Marie Lebert
ToC :: Next article: eBooks: 1999 – Librarians in cyberspace
If you liked this post, say thanks by sharing it.