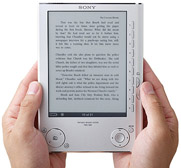 So here we are, just over a week until Waterstones start shipping out those lovely new Sony Reader PRS-505's to all us UK residents!
This is going to be the first E-Ink reader from one of the big boys to enter the UK market . The Sony Reader has been getting substantial coverage in mainstream media of late, so it will be interesting to see what the take up will be. If forums such as MobileRead are anything to go by then there will be quite a demand.
Don't know what the Sony Reader Digital Book (PRS-505) is?
The Sony Reader is an electronic book reader that uses an E-Ink screen to give a paper like reading experience. The Reader can hold around 160 books in its 250MB internal memory, but by using the two memory slots (10GB) you could potentially hold 10,000 books. If you don't think you could fill this then remember that the Gutenberg.org archives have over 20,000 English language books to download for free!!
Another advantage for the Reader is its battery life. According to Sony, you can get 7,500 page turns on each charge. I've not tested that number, but in real life terms I charge mine [PRS-500] just once every couple of weeks.
I bought my PRS-500 when I was in the U.S. at the end of 2006 and have had almost 2 years of use. I've read many PG books and find it gives a great reading experience. The new Reader, with its much brighter and faster screen, should give an even better reading experience..
Sony Reader Books
For its UK release, Sony have partnered with Waterstones, the highstreet book store, who will have an online catalogue of over 25,000 titles when they go live. It is believed that the Waterstones books will be in the .epub book format.
EPUB is a new eBook standard that is being adopted by publishers, professionals and amateurs alike (You can think of EPUB in the same way that MP3 is to music files.)
Sony also have their own book format, BBeB and you can also read PDF, MS Word, Plain TXT and RTF files, as well as view popular image formats such as .jpg.
Update: check out my PRS-505 review here
If you liked this post, say thanks by sharing it.