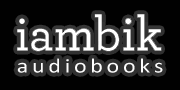 Today we received an email from Hugh McGuire, the guy who started the fantastic LibriVox public domain audiobook community (with many of their source eBooks coming from Project Gutenberg), announcing the launch of his new audiobook company called Iambik Audio. In his email he says;
We are thrilled to announce the launch a new audiobook company – Iambik Audiobooks – based loosely on the LibriVox model, but working in tandem with publishers. We've got some great audiobooks from Lydia Millet, Gordon Lish, Felicia Luna Lemus, and Andrew Kaufman among others.
This looks a really interesting project and the fact that they use a revenue-share model with both the authors and narrators, this could be a really interesting way to boost both their salaries and reputations. Congrats go out to Hugh, I'm sure he will make Iambik a massive success.
You can access the website here; http://iambik.com
Here is the full Iambik Audio Press Release;
Continue reading Announcing the new Iambik Audiobook Company →