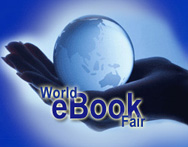 The 5th Annual World eBook Fair hopes to hand out 1 million to 2 million eBooks every day from July 4 to August 4 for a total of 50 million eBooks in a single month.
Once again The World eBook Fair has added over a million new freely downloadable items in a single year to offer you many new items in many new formats, errors corrected, etc.
About a million of these bear smaller resemblance to today's average eBook, as they have been proofread and formatted for easier reading, search, and research, and many are available in various formats that include cellphones, PDA's, etc.
Celebrate the 40th Anniversary of eBooks with us July 4th to August 4th. . .Pick Up A Personal eLibrary from 3.7+ million eBooks, not to mention music, movies, artwork, etc.
All you have to do is visit the portal (www.worldebookfair.org) and follow the pointers to the following collections, etc.
The 40th year of eBooks will start on July 4 with 3.5+ million FREE eBooks available.
These books run the range from light to heavy literature and a host of other subjects and have been made available for you by hundreds of eLibraries around the world from extreme polish of The World Public Library's 750,000 titles to Project Gutenberg with over 100,000 well proofread eBooks to the 2+ million from The Internet Archive.
eBooks will be available in over 100 languages!!!