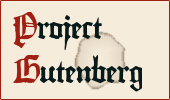 40th Year Special Project!
Improved Support For Our Project Gutenberg Volunteers
As a tribute to our volunteers we would like to make an extraordinary effort to thank them for all their effort over these four decades with a program to make the work less onerous and more easy to do.
If you, or anyone you know, has any suggestions, of how we can make the work go more smoothly, more easily, and improve things for our volunteers in any manner, please answer this article and let us know.
As one particular part of this program I would like for us to create a new kind of "Blue-washers" group for the specific purpose of helping our volunteers with problem areas specific to them. i.e. some volunteers just have one or two specific production areas at which they balk at certain procedures that are insisted upon and that's all the prevents them from being perfect volunteers.
If any of you are willing to help me help them overcome such problem areas, I would be extremely grateful!!!
Sometimes these are a simple as helping someone who has their margins counted in millimeters instead of inches, or who simply can't get their mind quite wrapped around certain details our post production people insist upon; other times it might just be a language gap where these volunteers don't quite have the same command of English as those who are trying to teach them.
If you feel you have the ability to make up for some of these or other small difficulties that are all the keep some of our volunteers from really taking off, you will be more than welcome.
Thank you so much!!!
Michael S. Hart
Founder
Project Gutenberg,
Inventor of eBooks
PS The term "Blue-washers" is a combination of terms:
"Blue Pencil" is the publisher/editor term for comments to writers about how to improve various article, essay, or even book length submissions.
"Whitewasher" is a term I invented long ago to name the people who supported me in my Project Gutenberg efforts after I realized I could not continue being the last of the editors to see each and every book and to put these all online myself after about #4,000.
NB Two people, including our CEO tried to help me with this this for about a month at a time, but each said it not something they ever wanted to do again. So, kudos, and plenty of them, to those who are willing to be last in the lineup to take the ultimate responsibility of an eBook's final content, format and appearance!!!
However we should add that Greg Newby and I have always championed the fact that some of our volunteers should/ would/could be able to have their eBooks published with no interference from anyone else, rules or not, with an exception for obvious spelling and formatting errors.
We have always had a few such volunteers that we took a personal hand in helping through the process, for those various reasons listed above, or many others.
We have some who submit perhaps one book per month, and others that take a year or longer between books.
Please let me know if you are willing to help.
If you liked this post, say thanks by sharing it.