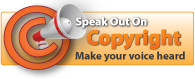 BIG NEWS! January's a great time to send an email to Ottawa A unique opportunity for Canadians to defend their Public Domain (the deadline is January 31, 2011).
The Opportunity
Bill C-32, the bill to amend the Copyright Act, is now being examined by a parliamentary committee in Ottawa.
The committee has taken the unprecedented step of inviting the Canadian public to email their submissions directly to the committee, the deadline being the end of January. You will find information and instructions here and here.
This is an opportunity not to be missed.
From the point of view of public domain advocates, Bill C-32 has its merits. In particular, it did not follow the horrible example of the European Union and the United States by imposing a massive general extension of the length of copyrights. For this our parliamentarians deserve our heartfelt thanks.
But the bill is far from ideal. It includes extensions to copyright length for many audio recordings and photographs. Also, it does absolutely nothing to enhance our public domain.

What Canadians Can Do
Send an email to the Committee making it clear that:
Parliament has no mandate to extend copyrights. The copyright extensions should be deleted from Bill C-32. Note that in the government's 2009 Copyright Consultation, precisely 5 submissions favoured extending copyright durations or keeping the current rules. An astounding 5520 submissions were opposed to extending copyright durations, or favoured shortening them. It's worth repeating: PARLIAMENT HAS NO MANDATE WHATSOEVER TO EXTEND COPYRIGHTS. (You can find a summary of the Copyright Consultation here)
A "Safe Harbour" provision is required for works more than 75 years old where the life dates of the authors are not known. This has long been needed, and will be absolutely essential if copyright terms for photographs are extended, as currently proposed in Bill C-32.
This note can be very short, and need take no more than a minute or two of your time. And by all means please forward a copy of your submission to your Member of Parliament (click).
What I Have Done
I have sent in a formal brief, which you can read here: http://gutenberg.ca/documents/Mark_Akrigg_Bill_C-32_brief.pdf
There is no need for your own submission to be anything like as long or detailed. The important thing is to make your voice heard.
Other Controversial Items in Bill C-32
In my submission, I concentrated on those items which most directly concern PG Canada and are likely to be overlooked unless people such as ourselves raise them.
However, there are other controversial items which may be of interest to you. You can view a summary, courtesy of Professor Michael Geist, by clicking here.
Thank you as ever for your many contributions! Together, we can win this.
Mark Akrigg
Project Gutenberg Canada
[This post is reproduced from a Jan 2011 PG newsletter from Michael Hart. The 'Speak Out on Copyright' logo is from Michael Geist's website.]
If you liked this post, say thanks by sharing it.