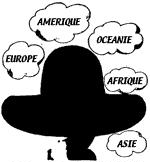 A couple of days ago Marie Lebert released her 40 Years of Project Gutenberg mini guide. Hundreds of people have already downloaded the guide and for those who are seeking a more in-depth review on the history of the ebook, then you're in luck as Marie will be sharing more articles over the coming weeks.
This series of articles marks the very end of a 12-year (1999-2011) research project, which has involved over 100 people world-wide. They all shared their experiences about the way the internet and digital technology has changed the book field across borders and languages. There's also many references to little-known projects along the way. These are going to be a real treat for all e-bookworms.
Marie Lebert has previously published her articles in French (her native language) in the literary magazine Actualitté, between 16 May and 4 July 2011, but this is going to be the first time they are released in their entirety in English.
The first article will be published tomorrow (7 July 2011) as part of Marie's celebration on the 40th anniversary of Project Gutenberg.
UPDATE: We now have an eBooks: 1971-2011 TOC post from which you can navigate the whole series.
If you liked this post, say thanks by sharing it.