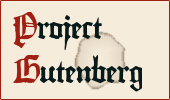 Next month will mark the centenary of the start of World War I. People around the world will be commemorating those that fought in the Great War. If you're interested in learning more about the war then you may be interested to learn that the Project Gutenberg archives contain a large number of works, both factual and fiction, from both WWI and WWII. (this year also marks the 75th anniversary of the Second World War).
To help you find and navigate these ebooks, PG volunteers have created bookshelves dedicated to each war.
World War I
The WWI bookshelf has been organized into a number of sections letting you navigate directly to titles for that specific subject. There's a Fiction section for a little light hearted reading, but for those interested in more factual writings, you can browse subjects based on Air/Sea warfare, biographies, general histories, fighting forces, conflicts in the various locations around the world, etc.
Visit the Project Gutenberg WWI Bookshelf.
World War II
Due to changes in copyright in the latter half of the twentieth century, many titles from the second world war have not yet fallen into the Public Domain, so this selection is much smaller than the WWI ebooks. This bookshelf will no doubt grow over the coming years, so it's worth checking back from time-to-time.
Visit the Project Gutenberg WWII Bookshelf
If you liked this post, say thanks by sharing it.