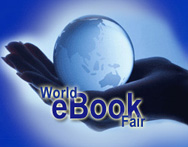 A Million Plus Books Free for the Taking!
July 4 2008
The Third Annual World eBook Fair Starts July 4th.
"Own Your Own Library" is the theme of this year's World eBook Fair.
Starting July 4th you will be able to do just that in an unprecedented opportunity to download books in the widest variety ever available.
Visit www.worldebookfair.org to get started.
Project Gutenberg and partner sponsors encourage readers to create the "personal library" of their choice in a "personal computer."  Most of the fair's electronic books are free of charge, and an additional 160,000 or more have coupon or discount purchases available during the month.
All possible types of electronic books, or eBooks, are available:
eBooks in over 100 Different Languages!
eBooks designed for cell phones!
eBooks designed for Adobe readers!
eBooks designed for plain text readers!
eBooks out loud in theatrical performances!
eBooks that your computer can read aloud to you!
eBooks that can be easily quoted in school papers!
160,000 eBooks in brand new commercial editions!!!
Music, movies, etc. are also included. . . .
Highlights of the World eBook Fair
Just two years ago The First World eBook Fair came on the scene with about 1/3 million books, doubled to 2/3 million in 2007, and now over one million.
Created by contributions from 100+ eLibraries from around the world, here are the largest collections
As of press date of midnight Central Daylight Time July 1, 2008 these were the approximate numbers:
~100,000+ from Project Gutenberg
~500,000+ from The World Public Library
~450,000  from The Internet Archive
~160,000  from eBooks About Everything
----------
~1,210,000+ Grand Total as of July 1, 2008
The Internet Archive will add about 1,000 books on each business day, along with various additions by the other contributors during World eBook Fair.
Thus the final grand total may be over 1,230,000
Contact information:
If you have any questions, or seek further materials, an interview or would like to confirm the schedule or contents please feel free to contact any of the following:
Michael S. Hart
Founder, Project Gutenberg
405 W. Elm, Urbana, IL 61801
hart@pglaf.org
hart@pobox.com
US Phone  217-344-6623
Cellphone 808-295-0615
Gregory B. Newby
CEO, Project Gutenberg
gbnewby@pglaf.org
US Phone 907-450-8663
http://www.gutenberg.org
John Guagliardo
Founder, World Public Library
Honolulu, Hawaii
john@gutenberg.cc
US Phone 808-292-2068
http://www.worldpubliclibrary.org
Catherine Hodge
eBooks About Everything
info@ebooksabouteverything.com
US Phone 760-327-5100
http://ebooksabouteverything.com
The Internet Archive
http://www.archive.org/details/texts
If you liked this post, say thanks by sharing it.