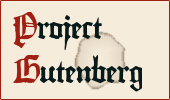 Noon, January 6, 2011, was the end of Project Gutenberg's 2010 production year. A great deal happened during the year though perhaps the most important was how 2010 became the year of the ebook.
All ebook websites reported an increase in downloads, especially at the end of the year. Gutenberg.org also saw a big increase, with almost 4.5M downloads for the 30 days after December 20th, up by around 900K from the 30 days before.
Public Domain Day
The first day of each year is Public Domain Day, when we list the works that have gone into the public domain that day.
There's a great post over at law.duke.edu listing works that would have entered the public domain this year if it weren't for copyright extensions that happened in 1978 and those since.
Because of these extensions we'll see fewer and fewer works entering the public domain over the coming years.

Milestones of the Year
2010 saw us release our 39,000th internally produced eBook. This mean we now have 29,000 in English, 1,700 in French and 700 in German. Other languages are also climbing up the charts with 299 titles in Spanish, 500+ each in Dutch and Portuguese, and over 100 in Greek.
All 39,000 are available at our main website; http://www.gutenberg.org
The Project Gutenberg Consortia now has ~100,000 eBooks, counting those from Gutenberg.org, other eLibraries, individuals and schools.
Project Gutenberg eBook Stats
During the last 12 months the PG volunteers have produced 4,408 internally manufactured eBooks making a total of 39,375. If we continue this average of 12 per day, it should take perhaps another 7 weeks to reach our 40,000th eBook, in the days when winter is turning to spring.
This will mean that we'll have released 40,000 eBooks in 40 years. Who would have thought that when we released:
1 eBook in 1971
10 eBooks in 1990
100 eBooks in 1993
1,000 eBooks in 1997
10,000 eBooks in 2003
Here's the full breakdown for 2010;
34,759  Up 3,998  From  30,761  PG General Automated Count
 1,915  Up   185  From   1,830  Project Gutenberg of Australia
   750  Up    75  From     675  Project Gutenberg of Europe [Not totaled]
   692  Up   224  From     468  Project Gutenberg of Canada [Estimated]
 2,009  Up     1  From   2,008  PrePrints
======   ======
39,375  Up 4,408  From  35,067  Grand Total [Counting some subtractions]
12.08 eBooks Per Day
84.97 eBooks Per Week
367.33 eBooks Per Month
You can compare these numbers against our previous years by visiting the Statistics page.
This article builds on Michael Hart's yearly review for Project Gutenberg. If you wish, you can read his full newsletter in our newsletter archives.
If you liked this post, say thanks by sharing it.