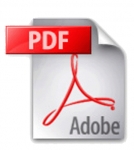 From California, Adobe launched PDF (Portable Document Format) in June 1993, along with Acrobat Reader (free, to read PDFs) and Adobe Acrobat (for a fee, to make PDFs).
As stated on the website, PDF "lets you capture and view robust information from any application, on any computer system and share it with anyone around the world. Individuals, businesses, and government agencies everywhere trust and rely on Adobe PDF to communicate their ideas and vision."
As the "veteran" format, PDF was perfected over the years as a global standard for distribution and viewing of information. Acrobat Reader and Adobe Acrobat gave the tools to create and view PDF files in several languages and for several platforms (Windows, Mac, Linux).
In August 2000, Adobe bought Glassbook, a software company intended for publishers, booksellers, distributors and libraries. Adobe also partnered with Amazon.com and Barnes & Noble.com to offer ebooks for Acrobat Reader and Glassbook Reader.
Two new software
In January 2001, Adobe launched Acrobat eBook Reader (free) and the Adobe Content Server (for a fee).
Acrobat eBook Reader was meant to read PDF files of copyrighted books, while adding notes and bookmarks, visualizing the book covers in a personal library, and browsing a dictionary.
The Adobe Content Server was intended for publishers and distributors, for the packaging, protection, distribution and sale of PDF copyrighted books, while managing their access with DRM according to the copyright holder's instructions, for example allowing or not the printing and loan of a book. The Adobe Content Server was replaced with the Adobe LiveCycle Policy Server in November 2004.
In April 2001, Adobe partnered with Amazon, for Amazon's eBookStore to include 2,000 copyrighted books for Acrobat eBook Reader. These were titles of major publishers, travel guides and children books.
Acrobat Reader was available for PDAs, beginning with the Palm Pilot in May 2001 and the Pocket PC in December 2001.
Adobe Reader
From 1993 to 2003, according to Adobe's website, over 500 million copies of Acrobat Reader were downloaded worldwide. In 2003, Acrobat Reader was available in many languages and for many platforms (Windows, Mac, Linux, Palm OS, Pocket PC, Symbian OS, etc.). Approximately 10% of the documents on the internet were available in PDF. PDF was also the main format for ebooks.
In May 2003, Acrobat Reader (5th version) merged with Acrobat eBook Reader (2nd  version) to become Adobe Reader, starting with version 6, which could read both standard PDF files and secure PDF files of copyrighted books.
In late 2003, Adobe opened its own online bookstore, the Digital Media Store, with PDF titles from major publishers, for example HarperCollins, Random House and Simon & Schuster, and electronic versions of newspapers and magazines, for example The New York Times or Popular Science. Adobe also launched Adobe eBooks Central as a service to read, publish, sell and lend ebooks, and Adobe eBook Library as a prototype digital library.
After being a proprietary format, PDF was officially released as an open standard in July 2008, and published by the International Organization for Standardization (ISO) as ISO 32000-1:2008.
Our interactive PDF
Using Adobe InDesign, Marc Autret, a graphic designer, made a beautiful interactive PDF out of one of my Project Gutenberg ebooks, "Technology and Books for All". He released our Booknology in April 2009. (Some web browsers can not open PDF documents directly, in which case you will need to download and then open in a separate document reader such as Adobe Reader.)
This interactive PDF may be the only one in the world offering a reading experience on three levels. If not, we would be eager to see some other ones and share experiences. Marc's email address – our contact email address for this work – can be found on the Booknology's webpage [link above].
Because we have been on a budget for years, working on novel projects with no funding, we haven't been able yet to offer an updated English version, as well as versions in French and Spanish.
In the wake of this work, Marc created the website Indiscripts in May 2009. As stated on the site: "Indiscript focuses on layout automation, scripting practice and plugins development in the context of Adobe InDesign. Our aim is to illustrate the possibilities offered by the JavaScript cross-platform language within the Adobe application(s), and to deliver useful information to script creators."
Copyright © 2011 Marie Lebert
ToC :: Next article: eBooks: 1995 – Libraries launched websites
If you liked this post, say thanks by sharing it.