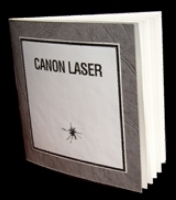 A writer and musician, Jean-Paul has offered beautiful works of digital literature, while searching how hyperlinks could expand his writing towards new directions.
In October 1998, Jean-Paul switched from being a print author to being an hypermedia author, and created cotres.net ("cotres" could be translated by "cutters" in English) as a website "telling stories in 3D", either French-language stories or plurilingual stories.
Jean-Paul also enjoyed the freedom of online self-publishing. He explained in June 2000: "The internet allows me to do without intermediaries, such as record companies, publishers and distributors. Most of all, it allows me to crystallize what I have in my head: the print medium (desktop publishing, in fact) only allows me to partly do that. (…) Surfing the web is like radiating in all directions (I am interested in something and I click on all the links on a home page) or like jumping around (from one click to another, as the links appear). You can do this in the written media, of course. But the difference is striking. So the internet changed how I write. You don't write the same way for a website as you do for a script or a play. (…)
In fact, it is not the internet which changed how I write, it is the first Mac that I discovered through the self-learning of HyperCard. I still remember how astonished I was during the month when I was learning about buttons, links, surfing by analogies, objects or images. The idea that a simple click on one area of the screen allowed me to open a range of piles of cards, and each card could offer new buttons and each button opened on to a new range, etc. In brief, the learning of everything on the web that today seems really banal, for me it was a revelation (it seems Steve Jobs and his team had the same shock when they discovered the ancestor of the Mac in the laboratories of Rank Xerox).
Since then I write directly on the screen: I use the print medium only occasionally, to fix up a text, or to give somebody who is allergic to the screen a kind of photograph, something instantaneous, something approximate. It is only an approximation, because print forces us to have a linear relationship: the text is developing page after page (most of the time), whereas the technique of links allows another relationship to the time and space of imagination. And, for me, it is above all the opportunity to put into practice this reading/writing 'cycle', whereas leafing through a book gives only an idea — which is vague because the book is not conceived for that." (NEF Interview)
Jean-Paul insisted on the growing interaction between digital literature and technology: "The future of cyber-literature, techno-literature, digital literature or whatever you want to call it, is set by the technology itself. It is now impossible for an author to handle all by himself the words and their movement and sound. A decade ago, you could know well each of Director, Photoshop or Cubase (to cite just the better known software), using the first version of each. That is not possible any more. Now we have to know how to delegate, find more solid financial partners than Gallimard [a major French publisher], and look in the direction of Hachette-Matra, Warner, and Hollywood. At best, the status of multimedia director (?) will be the one of video director, film director, manager of the product. He is the one who receives the golden palms at Cannes, but who would never have been able to earn them just on his own. As twin sister (not a clone) of the cinematograph, cyber-literature (video + the link) will be an industry, with a few isolated craftsmen on the outer edge (and therefore with below-zero copyright)."
"Canon laser", one of Jean-Paul's literary works, was first published as a print work using the first ODP software allowing artists to easily play with the form of letters (as characters). As a follow-up, a plurilingual hypermedia version was published on cotres.net in 2002.
The home page of cotres.net presently gives access to three literary works taking inspiration from both Paris and the whole planet.
"Solstice" (2008), a universal greetings card, is round instead of rectangular, to celebrate soft round forms versus hurtful rectangular forms.
"Agression93" (2009) is a short story about a minor attack in the suburbs, that can be read in four minutes when only using hyperlinks on the bottom right of the screen to fifteen minutes when searching hyperlinks with the mouse and clicking on some of them.
"Aux Jardins de Picpus" (2010) is a guided visit of the small gardens of Picpus in Paris.
Copyright © 2011 Marie Lebert
ToC :: Next article: eBooks : 2001 – Broadband became the norm
If you liked this post, say thanks by sharing it.