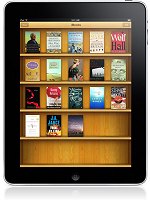 Although the iPad has been out in the U.S. for several weeks, today finally sees the day when it's released in Europe and Australia. Taking a looking over the news sites it seems there's been a lot of people queuing up to get hold of their own iPad which I guess now makes it big hit everywhere.
So then, you've dug deep and forked over hundreds of pounds/dollars/euros for your brand new toy, but you've now nothing left in your pocket to go buying books with. Well, no fear, why not go download some free books.
Although iBooks comes with an option to download PG books directly, I wanted to tell you about my free ebook project called epubBooks.com, that I've been working on.
I've taken titles from Project Gutenberg and created some very fine quality EPUB books, many of which include images (when available) and I've made all footnotes (endnotes) clickable, so you don't have to go searching through the text for the appropriate entry. Another click sends you back to the last page you were at.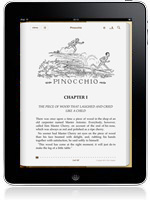 I spent a lot of time working on the conversion tools so the book coding is very clean and tidy, which means they render very nicely under the iPad iBooks application as well as any other E-Ink reader (Sony Reader, Cybook OPUS, BeBook, etc.) and Apple apps such as Stanza.
As well as free EPUB books, I have several eReader reviews and also a resource page where you can find places to buy EPUB ebooks from (none work directly in iBooks but may do via 3rd party apps).
Transfer EPUB eBooks from epubBooks to the iBooks App
At the moment it doesn't seem possible to just click a link on my site and have the book load directly into the iBooks App. Therefore, you'll first need to download the book to your computer. Once you've done this just drag the file onto iTunes and then hit the "sync" button. The book will be available in iBooks on your iPad.
I'm constantly adding new titles to the site so hopefully everyone will find something they enjoy.
If you liked this post, say thanks by sharing it.