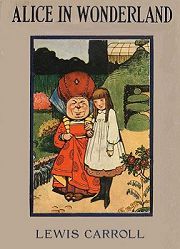 In an unprecedented move, Michael Hart, the inventor of eBooks, has announced he will buy lunch for anyone who can find errors, to the tune of one per chapter [10K of text] in the flagship of eBooks, The Alice in Wonderland Stories.
This includes the two books that are often portrayed together: Alice's Adventures in Wonderland, Through the Looking-Glass and What Alice Found There, by Charles Dodgson [Lewis Carroll]
The requirements are simply that one downloads the latest eBook versions from Project Gutenberg, and email them to Prof. Hart, so he can verify that you are working from the proper edition.
If you can find as much as one error per chapter or the 10,000 letter/character equivalent, Prof. Hart will drive to Chicago, Indianapolis or St. Louis, or nearby locations to be agreed on, to buy you lunch at Chicago's Giordano's Pizza, or King's BBQs in Indianapolis. A St. Louis primary location not yet chosen.
If you like, the press can be invited to cover the event.
Send all emails to: hart@pglaf.org
Help Celebrate the 40th Birthday of eBooks!
This is all part of Prof. Hart's 40 year commitment to bring a realm of the highest quality eBooks to readers worldwide, free of charge, via his efforts at Project Gutenberg, and thus also The World eBook Fair that runs every year, July 4 to August 4.
You can visit either of these sites to download entire library sized collections of eBooks starting Monday, July 4. Actually, the site opens when July 4 hits the first time zone out near a point on The International Dateline, so you can try early in a variety of other time zones.
http://www.worldebookfair.org [Open July 4 through August 4] and http://www.gutenberg.org and http://www.gutenberg.cc [Always].
In the future Prof. Hart hopes to add "the best seller eBooks" one at a time from Project Gutenberg's Top 100 List, until all of the "best sellers" have been through this process. He says to remind you that in this case "best sellers" is just phrase, since all of the Project Gutenberg eBooks are free of charge.
If you would like to see any particular title appear on lists for the "Perfect eBook Project", just let him know.
The World eBook Fair also includes millions of eBooks that are usually only available to World Public Library members, yearly rate of $8.95, and whose eBooks are are yours to keep or share with friends, family, libraries, schools, etc., as long as you would like to do so.
Also included are millions of eBooks from The Internet Archive, which also contains over a million additional files in formats for audio and video, as well.
The above files are mostly classics, with a sprinkling of new, but the 1.6 million eBooks donated by Wattpad are all new works by new authors.
So, whatever suits your fancy, you should be able to find huge numbers of free eBooks that are just right for you. Please help us give away as many eBooks as possible to fight a good fight against ignorance and illiteracy.
Hoping to thank you soon for your time and consideration,
Michael S. Hart
Founder
Project Gutenberg
If you liked this post, say thanks by sharing it.